Luminous Dog Harness
Innovation made of fiberglass fabric

See your dog in a range of over 600 feets ✅
◾️ Car drivers will be able to see your dog very well from far away and will stop in good time if it snaps away from you.
◾️ Oncoming pedestrians and cyclists are also warned in good time and alerted to the dog.
◾️ The good visibility of your dog with the BELLISK LED Glasfiber-Harness enables it to be leashed even in the dark. Grant your four-legged friend more freedom!
Your dog a ⭐️superstar
◾️ An eye-catcher on the street! Many dog owners that you meet on your walk with your dog, will be delighted by the light harness.
◾️ Strong colors and great luminosity and enables you to see your dog from all sides even in the distance. This means that your dog is still visible over 600 feets away.

The luminous material is as soft as cotton

Your dog will "feel comfortable!"
◾️ The luminous, skin-friendly fabric from which the sturdy harness is made feels unexpectedly soft and is also padded on the inside with a soft, breathable mesh fabric so that your dog is even more comfortable.
◾️ The length of the harness can be individually adjusted to the size of your dog in the chest and body area, thereby preventing chafing and rubbing on your dog's body.
We think about the environment🌱
◾️ We have equipped the BELLISK LED Harness with a rechargeable battery so that disposable batteries do not have to be used and disposed of.
◾️ A powerful lithium-ion battery provides the BELLISK dog vest with enough power to operate for hours. The USB charging cable included in the delivery, can be connected to any USB port and the dog vest can be charged. Saves money and protects the environment!

"One-finger" operation
◾️ With just one button you can switch between 4 flashing modes and 7 colors. Long press the button to turn off the light.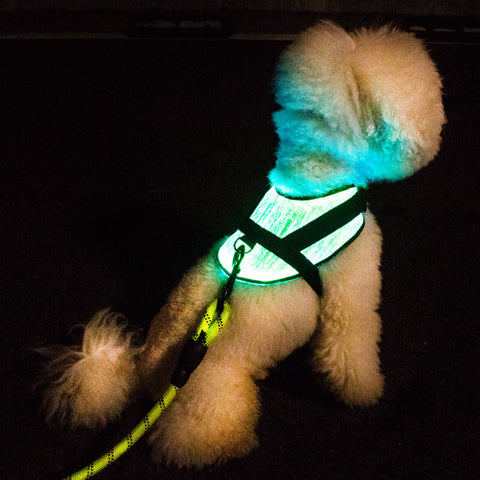 What size fits your dog?
◾️ The BELLISK Led Dog Harness is suitable for small and medium-sized dogs, puppies or even cats.
◾️ Ideal for little puppies who are just waiting to snatch away while walking and explore the area on their own. These can be found quickly with the shinig harness
Check the size chart to find out which BELLISK LED-Harness is best for your dog.
If you have any concerns, we recommend measuring the dimensions with a tape measure.
♻️ Uncomplicated battery USB charging
Available in green and pink
🔒 OUR GUARANTEE PROMISE
▪️ Every order you place, automatically generates a tracking number with which you can easily track the shipment status of your package on our website at any time.
▪️ All your orders on our website are made using SSL encryption, so that your personal data is 100% protected during the entire purchase process.
▪️ Our support team is available to you at any time for various matters and will answer your questions within 24 hours.